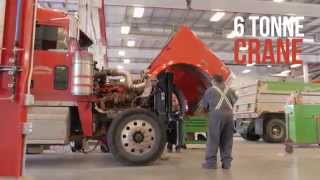 One of our favorite videos from a few years ago is this promotional video we created for Stahl Peterbilt to promote their body shop.
We incorporated a number of filming techniques to give this video the energy needed to create a "wow" factor. Besides the standard tools, we use on most jobs such a jib arm, slider, and fast lenses to give us a shallow depth of field we also brought in a drone to capture some stunning aerial shots. David Matthew Bonner Video Productions provided the expertise needed to get the highly creative & next-level drone shots. On top of all that we also created a hyper-lapse for the intro, which involves taking a few hundred photos while simultaneously moving the camera bit by bit in order to create a dynamic clip that lasts only a few seconds. Third Born Entertainment is the only company in Western Canada that offers this service and is one of the best hyper-lapse shooters worldwide.
To tie the video together we did up a few in-house motion graphics including rotoscoping, motion tracking and custom animations. Needless to say, the client was extremely happy with the end result and we are excited to see the impact it has made on their business to date.